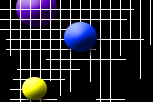 Welcome to The Website Zone! This is a site where I take different catagories of things and look for fan sites, unoffical sites, etc for that particular item. This site is frquently under construcion so visit it often! If you have a site reccomendation that you don't see here, let me know via the guestbook in the upper left hand corner of your screen.

We have links to sites for the following things: The Sims, Medal of Honor, Final Fantasy VIII, Need for Speed.




A note: Some links may require a paying subscription, registering, or is intended for people ages 18+ if that is the case, then I WILL mark it as one of these.